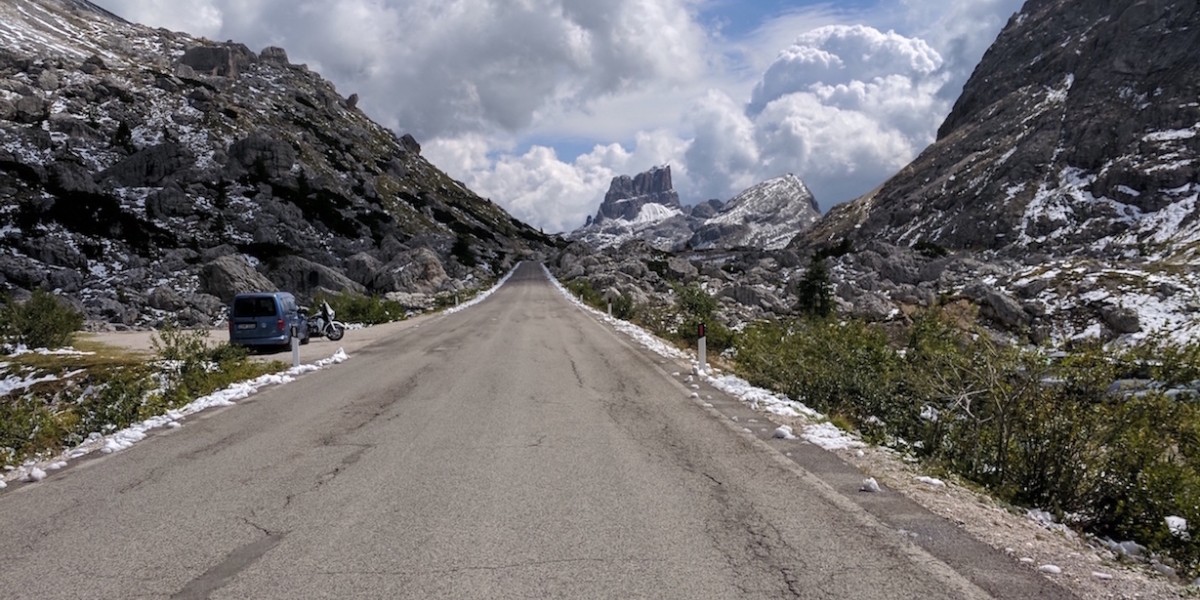 Italy Part II - Dolomiti
With the work part of the trip behind me, it was time to transfer to Badia, in the South Tyrol region of Italy.
Whilst it is certainly in Italy, you could be forgiven for thinking you were in an Austrian ski town. The food and architecture more reminiscent of Ischgl than Rome. This wasn't going to stop me eating my own bodyweight each day in local delicacies obviously. There was going to need to be some serious riding to compensate for the plentiful victuals.
Many of the famous climbs in the Dolomites are easily accessible from this area, so your rides don't have to be particularly long to rack up some serious elevation. Our first ride of the trip took us straight out the front door and into a 17km long climb to Passo Valparola. Despite being the start of September, we started running into snow on the ground fairly early into the ride – so when riding in this area, ensure you have appropriate layers to deal with a wide temperature range. Valparoloa tops out at 2168m, which kind of sneaks up on you. There are a few ramps heading into double digit gradients but nothing too taxing. Take it easy and enjoy the view – for a first ride in Italy, it is magnificent. There is a small restaurant shortly before the summit where a hot chocolate and piece of strudel ensures your riding companion doesn't want to push you off a cliff. A little early to stop for a snack perhaps, but we're not racing today, so why not.
A short descent takes you to a second pass for the day (does it really count if you ride downhill to it?) Passo Falzarego which really just connects you to an awesome descent to the town of Arabba. Fast straights followed by tight hairpins for nearly 15km – what's not to love? Needless to say, the new bike handled like it is on rails and the extra kilogram in weight was not an issue on the climbs. It's just extraordinarily comfortable.
Arabba brought us to the last climb planned for the morning – Passo Campolongo.
Zoncolan was one of the climbs I felt I just had to do whilst here. This meant an early start the next day as I had a 120km drive ahead of me. This isn't a particularly long way obviously, but the winding mountain passes between us would make it a nearly four trip each way. This was going to leave me a little shorter on time than I wanted, trying to squeeze a ride up Monte Crostis was going to be tricky.
At least it was dry….
Your legs feel fantastic after driving for 4 hours, so parking at Villa Santina seemed sensible – that way I could get a 10km warmup in before it started turning the screws on me. From the outset you know it's going to be a testing ride -even as you ride through the village of Liariis you're already into double digit grades. The 'official' climb - 7.5km averaging 13% through the forest is really quite enjoyable. It is steep, no question, but if you're riding the hills of Hong Kong, you've been well prepared. I had the place to myself too, other than a couple of old blokes sitting by the side of the road – they either yelled encouragement or called me a moron, not completely sure. Even though it's a nice feeling when it backs off to 12% and starts feeling flat that just means there is another 17% kick coming. There is an actual flat bit towards the top, which leaves you with two short tunnels to the finish (after a couple more hairpins obviously…) – and you're done!
At least it was dry…. Oh that's right - it started raining on me from about half way up.
I had initially planned to go back the way I came and approach Crostis from the West but the weather looked marginally less rubbish if I went off the backside of Monte Zoncolan and headed towards Sutrio. Abandoning all planning is just the right thing to do sometimes.
The first section is fairly narrow but then it just opens up to a nice two lane switchbacked road – all the way down. Drying up on the way down was an added bonus. Time constraints were starting to bite now and I really didn't want the drive home to be in the dark so heading straight back through Ravascletto (there may have been coffee and a toasted sandwich involved) looked the best option. It's basically downhill the whole way so you can give it a shove and have some fun.
So three hours later, I'm back at Villa Santina, ready to drive back to Badia. Looks like I'm late for dinner.
Worth it? Yes.
Atop Mt Zoncolan, it's quite a climb.
The view from Passo Valparola.
Everywhere you look, magnificent.